Located in an area with varied terrain to explore, you will never find yourself having a lack of things to do. Pilots can take advantage of a 5,000 ft. dirt runway or a 4,500 ft. paved runway nearby. Even the boat launch ramp is conveniently located within 2 miles of the property. You can even check out the local shopping and restaurants of Mulege and Santa Rosalia.
With world-class diving and fishing, you can explore the ocean waters with some of the best year-round fishing in all of Mexico. Other water based activities include whale watching, snorkeling, sailing, kayaking, scuba diving, surfing, waterskiing, wave running and other ocean activities. You could even visit Santa Ines Bay, home to abundant sea and wildlife. Even the miles of sand beaches around the southwest of Punta Chivato offer divers a chance to explore the views of rocky reefs teeming with vivid colors of tropical fish./p>
In the sixties, Punta Chivato became popular as it was the playground for the rich and famous. Even today the desert background offers outstanding off road vehicle experiences and a 9 hole desert golf course to tempt even the most avid golfers (free for public use). As one of the most remote points of the Sea of Cortez, you can truly enjoy the ambiance and beauty of the area.
ACTIVITIES: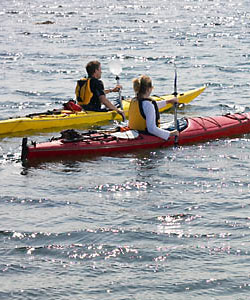 This beach house is a great place to get away and relax.
Here is a list of some activities that can be found here:

Kayaking (2 Kayaks available for use)
Fishing
Diving
Snorkeling
Swimming
Shelling
Cave painting tours
Whale watching (Dec.- Apr.)
Windsurfing
Boating
Wildlife viewing
Shopping
Golf 9 hole (Desert style)
28' Skipjack Fishing Boat Available:
Must book in advance
Captain provided
Cost is dependent on season